The best way to view and send your Yahoo e-mail from your Droid is to set up Droid's e-mail client for IMAP e-mail access.
Choose "manual setup" so that you can select "IMAP" versus "POP3" for incoming mail server.
Make sure to select "Require sign-in" on the outgoing server settings otherwise when you send e-mail, it won't actually get sent. It will get stuck in the outgoing mail server. Then when you correct the error, all of the old messages will get sent at once.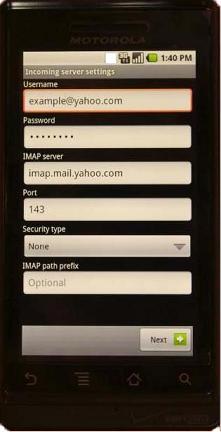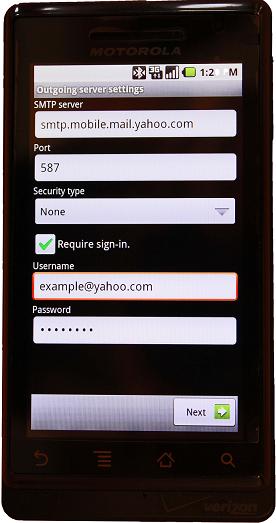 Incoming mail server settings for Droid for Yahoo mail:
Username: your complete e-mail address (example@yahoo.com)
IMAP server: imap.mail.yahoo.com
Port: 143
Security type: None
IMAP path prefix: Optional
Outgoing server settings for Droid IMAP Yahoo mail:
SMTP server: smtp.mobile.mail.yahoo.com
Port: 587
Security type: None
Require sign-in: Tick the check-box
Username: your complete e-mail address (example@yahoo.com)